13apr7:00 pm9:00 pmPOSTPONED: H.E. Ling Rinpoche – White Tara Long Life Initiation7:00 pm - 9:00 pm Event Type:Public Talk,PujaLevel:Advanced,Beginners,Intermediate
Event Details

His Eminence the 7th Kyabje Yongzin Ling Rinpoche will offer White Tara Long Life Initiation at Vajrayana Institute

Don't miss this precious opportunity!

All are welcome. Black foods such as meat, eggs, garlic, and onion should be strictly avoided for the morning of the initiation.

The teachings will be in Tibetan with English translation

Date: 13th April

Time: 7pm (please arrive by 6.45 to be seated)

Cost: By donation (suggested $20, but no set amount)

Vajrayana Institute is able to host this event thanks to the generosity and kindness of previous students and guests. Any donations are appreciated and will enable us to offer more amazing Dharma activities in the future!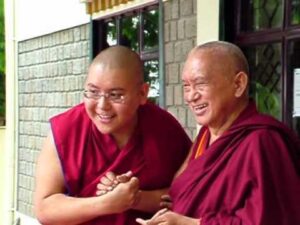 His Eminence the 7th Kyabje Yongzin Ling Rinpoche was born in McLeod Ganj, Dharamsala, in 1985. In 1987, His Holiness the 14th Dalai Lama recognized him as the reincarnation of the 6th Kyabje Yongzin Ling Rinpoche (1903 – 1983), who was the most Senior Tutor of His Holiness the 14th Dalai Lama.
The 6th Kyabje Yongzin Ling Rinpoche was His Holiness' main teacher and spiritual advisor throughout his lifetime, and accompanied His Holiness when he fled into exile from Tibet in 1959. His Holiness refers to him as "my Root Guru". He was also the 97th Gaden Throne Holder – the supreme head of the Gelugpa tradition, which is the largest tradition in Tibetan Buddhism..
Beginning with Charka the Arhat Udhay during the time of Lord Shakyamuni Buddha, twenty previous incarnations of H.H. the 6th KyabjeYongzin Ling Rinpoche have been identified, including Tutors to His Holiness the 6th, 11th and 13th Dalai Lamas; the 48th and 75th Gaden Throne Holders; as well as kings, yogis, scholars, and lay adepts prominent in the spiritual histories of India and Tibet.
H.E. the 7th Ling Rinpoche has completed all five Geshe Studies subjects (Logic, Perfection of Wisdom, Middle Way, Higher Knowledge, and Monastic Discipline) and He was recently awarded His Geshe Degree from Drepung Loseling Monastic University in South India, in November 2016. H.E. 7th Ling Rinpoche has now also completed the traditional one-year of further studies at Gyuto Tantric College in Dharamsala. His Holiness the Dalai Lama continues to closely guide him.
H.E. the 7th Ling Rinpoche has traveled to teach in many countries in Asia, Europe, Australia, Canada, The United States & Israel, as well as in many Tibetan settlements throughout India, Nepal and the Himalayan regions.
For more information on H.E. Ling Rinpoche please visit: http://lingrinpoche.info/
Time

(Monday) 7:00 pm - 9:00 pm
Location

Vajrayana Institute

9 Victoria Square, Ashfield, NSW 2131